Twisty Willow is a tight, dynamic, Celtic duo in demand for a wide range of gigs. Our self-crafted instrumental accompaniment gives us a full, rich, quality sound.
Now we live in Waipu and travel anywhere in NZ to perform.

Barb Bycroft fiddle, vocals, dance calling
Barb is a Kiwi with Irish and Scottish ancestry. Classically trained, she has followed her roots and love of Celtic music, developing an energetic, expressive style on fiddle. Her clear natural voice suits Celtic songs.  Barb enjoys calling and sharing the fun of the traditional dances she grew up with.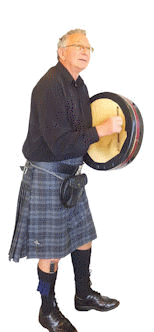 Wes Bycroft bodhran (Celtic drum), vocals, dance calling, band management
Wes' stylish bodhran playing provides the Celtic rhythm and depth. A Kiwi, Wes sings the rowdy songs, calls ceilidh dances, does the sound, the band business management and produces our backing tracks, web site, recording and publicity.
Twisty Willow began as a five-piece pub band in 1990, riding the exciting, crazy wave of Irish and Scottish pubs in Auckland and around New Zealand. In this demanding, crowded scene, we rapidly honed our instrumental, vocal, and entertainment skills. Our dance calling adds an extra dimension to private and corporate gigs.   
We now also play for Scottish Country Dance balls/annual dances with an extensive repertoire of Scottish Country Dance tune sets and we dance with the local Waipu Club.
Twisty Willow originally formed to record 18 tracks for Rae Storey's "New Wave Folk Dance" resource for schools. The books and CDs are still available and include Scottish, Irish, English and European dances. We taught popular weekly Ceilidh dance classes for 15 years in Auckland.
Recently we introduced monthly Reeling nights in Whangarei which have attracted young and enthusiastic participants. We still enjoy the thrill of enabling people of all ages celebrate and enjoy Celtic music and dance. 
---
Why the name "Twisty Willow?
Willows have long been seen as a sacred tree of life bringing good luck into the home. Like the Celts, willows have spread to every corner of the world and flourished.